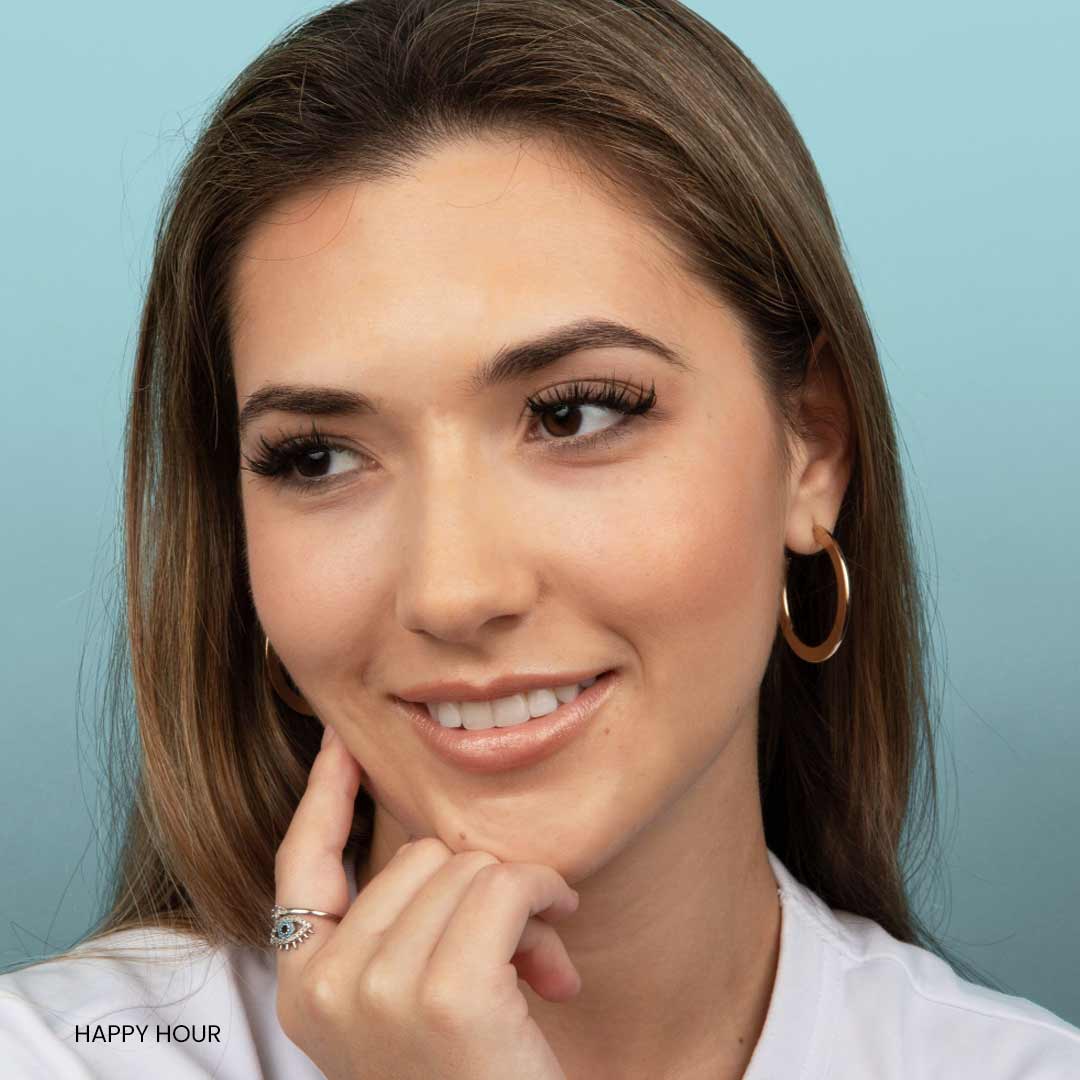 HAPPY HOUR 3-Length Kit
Happy Hour is our take on manga lashes. Featuring a soft spike that pays homage to the viral style, these lashes remain flirty and elegant. The design is playful, making it perfect for makeup enthusiasts who appreciate a touch of fun in their look. With carefully spaced peaks, this style allows you to showcase your eyeshadow looks, creating a harmonious balance between trendiness and everyday sophistication.
Includes: 3 lengths of lashes - 10, 12 & 14 mm.
Multi-length, multi-layered look
Whisper thin, "invisible" band
📲 Frequently Asked DMs
We've got answers 🤓
We don't spread hate here 🤭 But we put a lot of care and love into creating an ultra light lash you can apply at home, wear for days and even re-use.

Some key characteristics that make Noonlash luxurious and stand out:

Noonlash is gentle and non-damaging to your natural lashes, so you won't lose your lashes like you do with salon extensions
Noonlash features segments with a clear strip so you can create a super blended, natural look - no dark black strip or one long lash that you have to cut.
Noonlash is made with feather-light 100% Korean PBT silk so that your beautiful look is also comfy.
Noonlash lashes and tools are vegan, cruelty free, latex free and hypoallergenic.

Noonlash eyelash fibers are made from the highest quality Korean PBT silk.

Korean PBT silk is vegan, cruetly free and safe for sensitive eyes.

All of our products are latex free.

Durability is as unique as your fabulous lifestyle and individual body chemistry!

But fear not, most of our enchanting customers enjoy a delightful 5-7 days of flawless lash wear lash bond.

But wait, there's more! Noonlashes are not only glamorous, they're eco-friendly too.

If your Noonlashes are properly cleaned and stored, they can typically be re-worn 4-5 more times.

So, my dearest, whether you choose to wear Noonlash continuously or take a mini break, your lashes will be the talk of the town.
Cleaning your Noonlash

Step 1: Wipe down lashes using a makeup remover-soaked cotton ball to remove residue and glue.

Step 2: Gently remove old glue to keep lashes fresh before each use.

Step 3: Use a warm water-dipped cotton swab to eliminate mascara buildup.

Step 4: Disinfect lashes by rubbing them with a cotton ball soaked in rubbing alcohol.

Step 5: Let lashes air-dry completely to prevent bacteria or mold growth. Avoid using hairdryers.

Remember, darling, well-cared-for lashes make for a stunning makeup look!

To store your Noonlash:

Oh, sweetie, when it comes to storing your precious lashes, worry not!

Simply keep them snug in the delightful original trays they arrived in.

But wait, there's more to make your heart flutter!

We're preparing adorable storage mirrors to accompany all kit orders.

So, hold on tight, and soon you'll have the cutest little mirrors to keep your lashes safe and stylishly stored.

 

WHEN WILL MY ORDER SHIP FROM THE TIME I ORDER?

Please allow 2 business days for your order to be processed from our warehouse prior to shipment. Orders are not shipped on weekends or holidays.

During New Product Launch, Holidays, or Sale events, it may take 5-7 business days for your order to be processed.

HOW LONG DOES IT TAKE FOR DELIVERY?

Due to recent USPS changes, it now takes 5-10 business days for the USPS Mail Courier to deliver your package.

If there are Postal Delays, it may take an additional 7-10 business days for delivery. Please note: Postal delays are completely out of our control.

TRACKING YOUR ORDER

When your order has been processed and shipped, you will receive an e-mail notification from us which will include the shipping details and the tracking number.

Please allow 24 – 48 hours for the tracking information to show on the USPS website.

Please track your packages. Noonlash is not responsible for lost or stolen shipments. Packages may/will be left at your front door by the postal courier if no one is home to receive it. We have no control over what happens to your package once the postal courier delivers it.

**We do not replace or refund orders that are scanned "delivered" by USPS or UPS. In the case that your order is undelivered, however is marked as delivered, an investigation will be opened with USPS or UPS depending on the used carrier until a final resolution is made. *****

We are not responsible for lost or stolen packages or packages delayed in transit.

If there is a problem with your package delivery or tracking number, please contact USPS directly.

USPS: 1-800-ASK-USPS

If USPS or UPS Tracking confirms that the package was "Delivered", no refunds or replacements will be granted.

If you're new to Noonlash, you might ace it right away – or you might not and that's totally ok! Mastering Noonlash takes practice and patience.

For all first time orders over $20, we'll include an extra pair for you to practice with!
Whisper-light lashes that feel just right 👌
Noonlash is as perfect for a date at a swanky wine bar as it is for a day spent working from home in your oldest sweats. Noonlash's ultra-light Korean silk fibers and tools that are thoughtfully tailored to be gentle on sensitive eyes give you the freedom to lash however and whenever you desire.

The secret to Noonlash's effortless vibe? A clear lash band & luxurious mini segments.

👆😉 We're not keeping that a secret. Tell everyone you know.